Our School Motto
Amor Dei, Aliorum, Literarumque'
'Loving God, Loving Others, Loving learning'.
Our Founders
St Clare, Blessed Edmund Rice & St Francis
Thought For The Week

"Being confident and
believing in your own self-worth
is necessary to achieving your potential."
—Sheryl Sandberg
First Holy Communion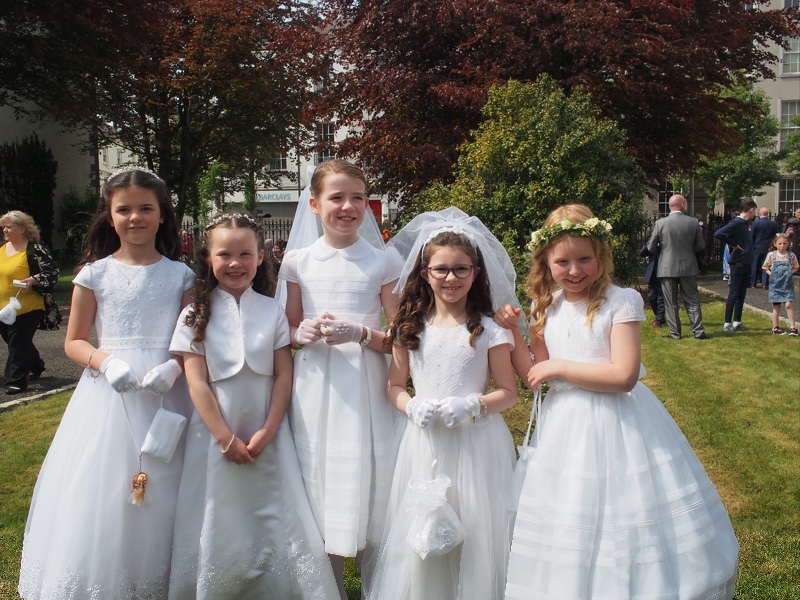 Attention Parents
Principal's Update 20/5/22
Dear parents,
ICT Success:
We had a wonderful experience on Wednesday when Miss Rocks, Mrs M Mc Parland and I attended the Awards Ceremony for 'Excellence in ICT' competition held in Belfast. We were thrilled to learn that we had been Highly Commended out of the hundreds of entries submitted across the country. We returned to school with a beautiful crystal plaque and certificate in recognition of the work that we had done during Covid school closures to keep our children learning. The judging panel were ICT specialists and educationalists from NI and beyond and they described the practice as world leading. We feel that this award belongs to us all as it is recognition of the effort that parents, pupils and staff made together.
P7 Pupils:
Tomorrow our P7 pupils will learn which post primary school they will be attending in September. Some will not receive their first choice, others will. We spoke about this in Assembly today and I urged the children to trust in the plan that will unfold for them, even if it does not seem to be what they want at this stage in their lives. Our younger boys and girls really admire the P7 children and they prayed for them that they will all find a way to be happy and contented about what lies ahead.
We will think of them all tomorrow and give heartfelt thanks for the truly wonderful schools that exist in our town and wider locality.
School Trips:
Should any parent be under pressure due to the cost of a school trip, please contact me. As always, any conversation would be confidential.
First Holy Communion:
We had a wonderful day on Saturday when P4 pupils received the sacrament of the Eucharist. They were a credit to their families and our school and I was delighted to hear that so many were able to attend Mass again on Sunday.
May Procession- Wednesday 25th May- Weather permitting:
REMINDER- P4&P7 parents are invited to join us on Wednesday @ 1.15 for the procession.
The Forest Area will be open on Wednesday morning @ 9 if any parent wishes to bring a statue of Mary (with your name written on the base) and flowers to set up a little altar along the route. We have done this in previous years and it was very special.
I wish you a lovely weekend,
Yours in partnership,
Mrs Monaghan
Parish News
We are recycling old batteries

As part of our Eco Council work in school, we are gathering used batteries for re-cycling.
Pupils can bring in any used batteries from home.

These can be taken to our recycling box which is located just inside Door D on the ground floor (Senior Playground - Middle Doors).

Younger children can bring the batteries into their classrooms.
Thank you
Upcoming Events
Wed, 25 May 2022
May Procession (Weather Permitting )
Thu, 2 Jun 2022
No School
Fri, 3 Jun 2022
No School
Mon, 6 Jun 2022
No school for pupils
Thu, 30 Jun 2022
School closed at 12 noon for the summer
Please note dates and times are subject to change.
ÔÇťCrack the codeÔÇŁ winners 20 May 2022
Important
NUT ALLERGIES
Please do not send any types of foods containing any type of nuts into school for lunches as we have children with severe nut allergies. These items include biscuits and bars with a nutella type filling or croissants containing hazlenuts or any other types of nuts.
Food containing any types of nut product will have to be confiscated.
Can all parents please check the labels on food being sent into school to ensure there are no traces of nuts.
We cannot allow products in school if the label states; "may contain traces of nuts."
We have been advised by the Allergy Nurse not to accept Horse Chestnuts / Conkers.
We have children with severe nut allergies in the school.
Please help keep these children safe while in St Clare's Abbey.
Prosimy nie dawaca─ç dzieciom do szko┼éy ┼╝adnych rodzajów ┼╝ywno┼Ťci zawieraj─ůcych jakiekolwiek orzechy, poniewa┼╝ mamy dzieci z silnymi alergiami na orzechy. Artyku┼éy te obejmuj─ů herbatniki i batoniki z nadzieniem typu nutella lub rogaliki zawieraj─ůce orzechy laskowe lub jakikolwiek inny rodzaj orzechów.
┼╗ywno┼Ť─ç zawieraj─ůca wszelkie rodzaje orzechów b─Ödzie musia┼éa zosta─ç skonfiskowana.
St Clare's Abbey Primary School, Nursery, ECPD, 12 Courtenay Hill, Newry, BT34 2EA | T: 028 3026 2175

WEBSITE BY: SCHOOLWEBDESIGN.NET | Login