Take A Moment
"Not all of us can do great things.
But we can do small things
with great love". ❤️
-Mother Teresa
Summer Reading
Libraries NI is delighted to announce details of 'Silly Squad', Summer Reading Challenge 2020 produced by The Reading Agency and delivered by libraries which will take place from Monday 15 June.
The Silly Squad, Summer Reading Challenge, is a free, exciting way to keep
young people aged 4 - 11 years reading during the summer months.
Children can sign up for free here.
School Closure Learning Plan
16 March 2020
Teachers will try their best to ensure access to high quality learning materials via the following:
Use of See-Saw
Pupils will be able to access school work through the See-Saw 'app'. Teachers will be providing regular updates of tasks to be completed.
Mathletics
Pupils will locate activities related to the area of maths outlined by the Teacher on See-Saw for that week. These activities will be the priority but additional Mathletics activities of pupil choice may also be completed.
C2K Newsdesk (P3 – P7)
Pupils will be expected to use this valuable resource. Teachers will be able to monitor pupil activity. This is an amazing resource which will offer hours and hours of learning opportunity.
Daily Reading
Pupils in Primary 1, 2, 3 and some P4 can access books on Bug Club. Teachers will ensure that ample suitable titles are allocated.
All children should be members of our local library. Please join as soon as possible as e-books can then be accessed on 'Libby' and 'Overdrive' apps.
Transfer Revision
Primary 6 Teachers will upload tests and guidance notes on 'One Note' so that pupils will continue with their revision.
GL preparation work, above and beyond other school work, will be sent by Teachers.
Nessy / Lexia Users (Specific Children Only)
Pupils are encouraged to work at home at the level that they are currently using.
Please check your child has access to the above 'apps'/on line learning programmes by testing their username and password (copy will be provided on See-Saw).
Home-School Support
SeeSaw
Teachers will respond between the hours of 9.00 - 3.00pm only (some teachers work part time and as such will respond only on the days they are scheduled to work).
The teacher may not always be able to respond on the day of your message (depending on the number of SeeSaw posts received) but will respond as soon as they can.
We ask parents not to post too frequently as we wish to be fair to everyone.
We respectfully request that any of our work or teachers comments are not shared on line or on any social media.
Parents need to contact the class teacher through "SeeSaw" if advice is required.
Thank You
Mrs Monaghan
C2k From Home
How do I access C2K from Home?
Pupils can access a range of C2k services by accessing
www.c2kschools.net and logging in with their C2k username and password, or using the MySchool login Box on the home page of St Clare's Abbey website.
How To Access Newsdesk From Home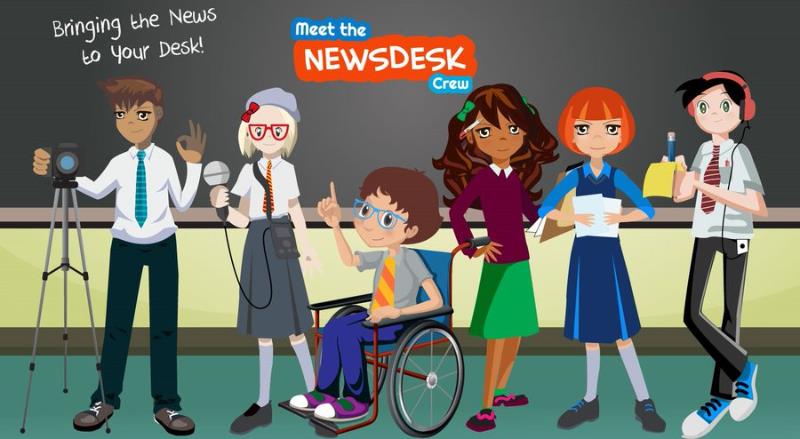 Technical Difficulties
If you are experiencing difficulties with accessing on-line learning, please forward a message via the See-Saw app direct to the class teacher who will respond as soon as possible. Or alternatively send an email to the school secretary, bdowney378@c2kni.net
Please state the pupil name and class teacher and give brief information about the problem/s encountered. Mrs Downey will then make contact with the class teacher.
SCHOOL APP
If you are having difficulties receiving messages, please re-install the app on your phone. Go to Menu and use "choose profile" to tick the classes that your children are in.
If you continue to have problems, please contact the app suppliers on info@edtap.com and they will call you back.
We ask parents to please be patient at this time.
Thank You.
On-line Safety when Learning from Home
Home learning requires a certain amount of 'online time' for our children and it is wonderful that we can avail of this to keep a sense of normality and continuity in education at this time. So as families start spending more time at home and online it may a good idea to have a family agreement, start a conversation with your whole family about how you all use the Internet and to discuss how to behave positively online.
Useful websites
Free DENI Reccommended App. Scan Primary QR Code To Download
Weekly Message From Mrs Monaghan
Blue-White Groupings

Parents

Please note these two letters

1. Letter from school outlining how we will move forward in September 2020, if the 1 metre distancing rule remains the same. (Blue and white groupings)

2. Letter from Newry Area Primary Principals Group outlining shared practice in this area

I urge you to look at both letters carefully as you may feel that you need to make a response in accordance with instructions detailed in the first letter.

Mrs Monaghan

View
Newry Area Primary Principals' Letter
View
Wednesday 17 June
View
Wednesday 10 June
View
Wednesday 4 June
View
Wednesday 27 May
View
Wednesday 20 May
View
Wednesday 13 May
View
Wednesday 6 May
View
Wednesday 27 April
View
Wednesday 22 April
View
Good Friday Message
View
Wednesday 8 April
View
Wednesday 1 April
View
Wednesday 25 March 2020
View
EA Helpline
The EA has a helpline for pupils with a statement of educational need, or who are in the assessment process, or accessing SEN support at stage 3 of the Code Of Practice eg ASD service, Literacy Support Service, Behaviour Support Service.
The SEN help line is open -
Monday - Friday 9am to 5pm 028 95985960
Grow In Love
Grow in Love is being made free for all parents and students to help with distance learning.
To access this simply login on the www.growinlove.ie website through the link below and enter the following details:
Email: trial@growinlove.ie
Password: growinlove
Learning Through Play At Home
RISE NI, CAMHS & Autism Services
Contains information for EVERY family
Autism Services, CAMHS and Rise NI have made a series of resources available (southerntrust.hscni.net) click here.
We appreciate that this is challenging time for all our young people, parents and carers. We hope that this content will provide useful information to support you during this period of social distancing.
Play ideas and resources for home (click on title)
PE
"Parents are going to be under pressure over the coming weeks and for 30 minutes a day I can take over and inspire and energise the kids to get active, bounce around and have fun.
Please share away. This is going to help millions of children and parents feel happier for 30 minutes and beyond everyday".
Joe
St Clare's Abbey Primary School, Nursery, ECPD, 12 Courtenay Hill, Newry, BT34 2EA | T: 028 3026 2175

WEBSITE BY: SCHOOLWEBDESIGN.NET | Login