What is a 'Newcomer' Pupil?
During recent years, schools in the north of Ireland have been experiencing a steady growth in their enrolment of children from various parts of the world who are therefore used to different languages and cultures.
It is important that all children feel welcome in our school and are supported as they get used to their new surroundings and to learning a new language.
The term 'newcomer' is used to refer a pupil who does not have satisfactory language skills to participate fully in the school curriculum and does not have a language in common with the teacher.
How do schools decide if a child is a newcomer?
Schools must ensure that the pupils meet certain criteria. If they do, schools may record them as a newcomer on their annual school census. Schools are responsible each year for checking if a pupil still meets the newcomer criteria. Each year the child's progress will be improving as they learn a new language and fully integrate into the education system and the term newcomer may no longer be appropriate.
The information above is from the Department of Education's Website and further information can be found by using the link below to their website.
Mrs Doherty
Co-ordinator for 'Newcomer children'
Mrs Doherty contributes to;
the vision for newcomer provision within St Clare's Abbey

the development of high quality teaching and learning for newcomer children.
Koordynator do spraw nowo przbylych dzieci.
Pani Doherty przyczynia sie do:
ksztaltowania wizji odnosnie swiadczenia opieki nad nowo przybylymi uczniami w St Clare's Abbey

rozwoju wysokiej jakosci nauczania I uczenia sie dia nowo przybylych dzieci.
Speaking the same language!
Would you like to experience what it is like to use Google Translate?
Our Newcomer parents use Google Translate to view content on our school website. As part of our focus on raising intercultural awareness within the St. Clare's Abbey community, below are a couple of articles written by some of our Newcomer parents about the differences they experience in life living in Newry compared with their home country. We have deliberately not translated the pieces into English so as to give all our parents a chance to experience having to use Google Translate and to give us a better understanding of what it is like to have English as a second language!
1
Polska i Irlandia to nasze dwie ojczyzny. Oba kraje sÄ… wspaniaÅ'e, a dziÅ› chciaÅ'bym napisać o kilku różnicach miÄ™dzy nimi. Edukacja w Polsce zaczyna siÄ™ w wieku 7 lat. W szkole nie nosi siÄ™ uniformów. Różnych przedmiotów uczÄ… różni nauczyciele, inaczej jak w irlandzkiej, gdzie klasÄ™ prowadzi jeden nauczyciel przez caÅ'y rok. Mimo, że Polska jest krajem katolickim, to w szkole mniej czasu poÅ›wiÄ™ca siÄ™ modlitwie. Natomiast przygotowanie do Pierwszej Komunii Åšw. jest bardziej intensywne. Dzieci przyswajajÄ… wiÄ™cej modlitw i podstaw Katechizmu. Podobnie jak w Polsce uwielbiamy grać w piÅ'kÄ™ nożnÄ…, jednak inne popularne sporty tam to siatkówka, piÅ'ka rÄ™czna czy koszykówka. Nikt nie sÅ'yszaÅ' o rugby i gealicu! Inne mamy obyczaje zwiÄ…zane z obchodzeniem Å›wiÄ…t Bożego Narodzenia i Wielkanocy. Chodzimy na PasterkÄ™ o póÅ'nocy w wigiliÄ™, a w poniedziaÅ'ek wielkanocny lejemy siÄ™ wodÄ… czyli "Å›mingus dyngus". W Irlandii ważny jest St. Patrick Day, a w Polsce ÅšwiÄ™to Trzech Króli.
2
WydajÄ™ mi siÄ™, że wbrew pozorom jesteÅ›my bardzo podobnymi narodami. NajwiÄ™ksze wedÅ'ug mnie różnice : * ÅšwiÄ™ta bożego narodzenia, chodź ceremonie w koÅ›ciele sÄ… bardzo podobne, to my mamy PasterkÄ™, 24.12 o 24.00. Poza tym nasza kokacja Å›wiÄ…teczna Wigilia jest także 24grudnia i wtedy nie jadamy miÄ™sa. *Dzieci zaczynajÄ… szkole w wieku 6-7 lat. Nie noszÄ… mundurków, ale za to potrzebuja o wiele wiecej ksiazek, zeszytów, przyborów szkolnych, tj. kredki, farby, plastekuna, bloki i inne. Każda lekcja to inny przedmiotem, który trwa 45minut. Dzieci w ciagu roku szkolnego, czasami też w wakacje musza czytać lektury. Szkola zawsze zaczyna sie 1 wrzeÅ›nia i wtedy dzieci przychodzÄ… w strojach galowych, tzn. biale bluzki i czarne spodnie/spódnice. Tak samo jest w dzien zakonczenia roku szkolnego. W okresie zimowym maja dwa tyg wolnego, sÄ… to tak zwane ferie zimowe. W ciÄ…gu roku szkolnego organizowane sÄ… apele z okazji najwazniejszych uroczystoÅ›ci. * oprócz tego ludzie w Polsce wydaje mi siÄ™, że wolÄ… zaczynać szybciej pracÄ™ u szybciej ja koÅ"czyć, czÄ™sto pracuja od 6.00 do 14.00-15.00. * czesto tez w okresie letnim zaczynamy robic przetwory na zimÄ™ takie jak : dżemy, soki, kompoty, ogorki, różnego rodzaju saÅ'atki w sÅ'oikach i trzymamy je w piwnicach
* bardzo czÄ™sto ludzie maja ogródki albo dziaÅ'ki i sÄ…dzÄ… tam warzywa oraz kwiaty. Mam nadziejÄ™, że udaÅ'o mi siÄ™ chociaż trochÄ™ przybliżyć życie w Polsce. Pozdrawiam
Nasza Szkolna Karta Zasad
Mowimy do siebie na wzajem ladnie i sluchamy sie uwaznie.
Nigdy nie zostawiamy nikogo samego.
Bawimy sie razem przestrzegajac zasad. Zawsze sie staramy jak najlepiej.
Przychodzimy do szkoly przygotowani.
Zachowujemy sie wlasciwie. Kazdy z nas jest inny i my to respektujemy.
Troszczymy sie o nasza szkole i wszystkich w szkole.

Newcomer Support
In St Clare's Abbey we have two classroom assistants who are available on request to act as translators or provide support for our newcomer parents.
The assistants are a visible presence supporting newcomer children pastorally during the school day at break time, lunch time or in the event of an emergency.
Rights Respecting School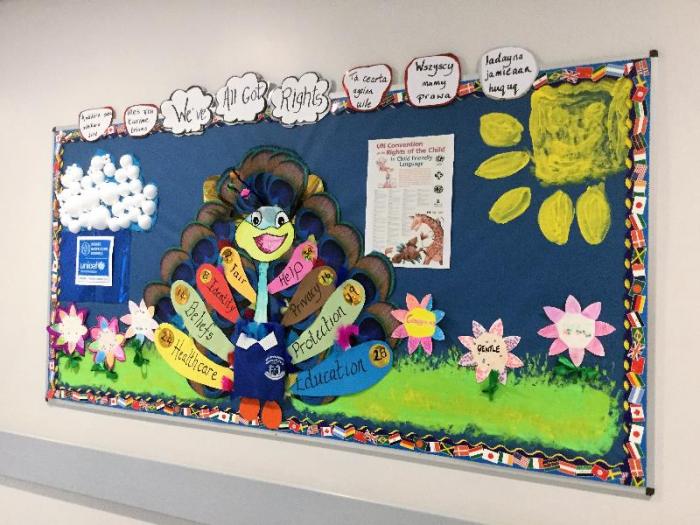 St Clare's Abbey Primary School, Nursery, ECPD, 12 Courtenay Hill, Newry, BT34 2EA | T: 028 3026 2175

WEBSITE BY: SCHOOLWEBDESIGN.NET | Login