P7
Primary 7 pupils are expected to apply the knowledge they have gained previously through the years. They are challenged to become independent learners who can apply their skills to real life situations. All learning is geared towards equipping the children with skills needed for transition to Post-Primary and indeed life skills needed for beyond school.
In each term every child in primary 7 takes on a role of responsibility on our Pupil Leadership Team (PLT). This is an opportunity for them to exhibit the behaviour expected from a St Clare's Abbey student and become role models for the rest of the school.
Our Videos
Tribute to the class of 2023
26th Jun 2023
St Patrick's Day
16th Mar 2023
P7 Christmas Play 2022
21st Dec 2022
Tribute to class of 2022
19th Oct 2022
Attention
Abbey CBS are very much looking forward to welcoming our new Year 8 students to their Transition Day on Thursday 22nd June.

Students are invited to take the bus to school and are very much encouraged to do so.
Mrs Elmore will be at Newry Bus Depot to accompany any students to school, using the link bus.
Students should be at Newry Bus Depot for 8:40am. All other students should arrive at Abbey CBS no later than 9am. Students are reminded to wear their Primary School Uniform.
Complimentary lunch will be provided on the day. We ask parents to pick up their son's at 1pm and to kindly remain outside the school building until they are released.
Please note any student attending should bring their medication (EpiPens / inhalers) with them on the day.

Regards
Mrs Elmore
Latest Photographs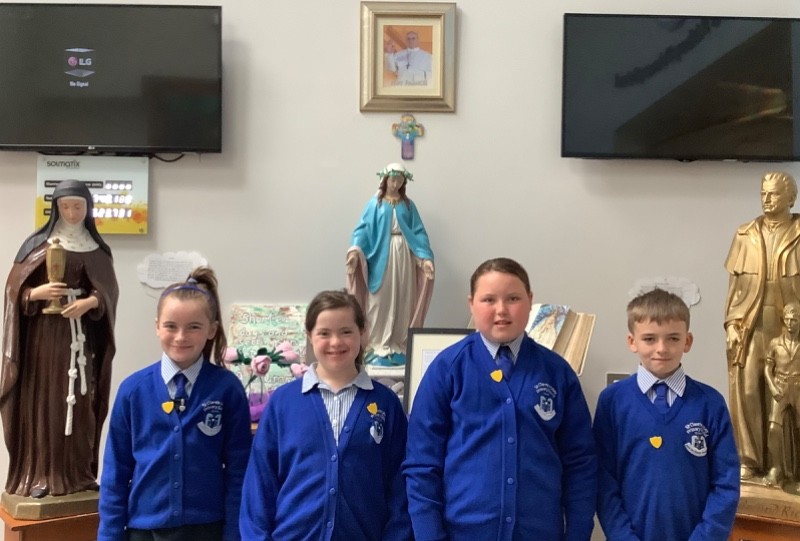 Office Managers Term 1
Numeracy Mentors Term 1
Literacy Mentors Term 1
Library Monitors Term 1
P1 & P2 Mentors Term 1
Digital Leaders Term 1
Numeracy Mentors Term 2
Literacy Mentors Term 2
Library Monitors Term 2
Digital Leaders Term 2
P1 & P2 Mentors Term 2
Office Managers Term 2
St Clare's Abbey Primary School, Nursery, ECPD, 12 Courtenay Hill, Newry, BT34 2EA | T: 028 3026 2175

WEBSITE BY: SCHOOLWEBDESIGN.NET | Login