Wellbeing
Healthy Body, Healthy Mind

Be Active - Play, join a team sport, walk, cycle, run around. Being active helps us keep fit and also makes us feel good.
Take Notice - Watch and listen to what's going on around you, changing seasons, bugs, birds, flowers and rainbows. Take notice of how you feel.
Give - Do something nice for a friend or family member, share, smile. Give to yourself - play, be creative, use your imagination, draw, paint, dance, dream. When we give to ourselves or others it makes us feel happy.
Keep Learning - Read for fun, learn how to do something new, try your best. Set a challenge you will enjoy. Learning new things makes us feel proud as well as being fun to do.
Today is a great day! Monday 22 March 2021
A Thought to Remember
Help Build Resilience
Growth Mindset & How to believe in yourself
Relax Kids Page

Mrs Byrne has wonderful breathing exercises and meditations on the relax kids page.
Remember
Let's Love Our Life
Looking After Our Well-being, Monday 29 March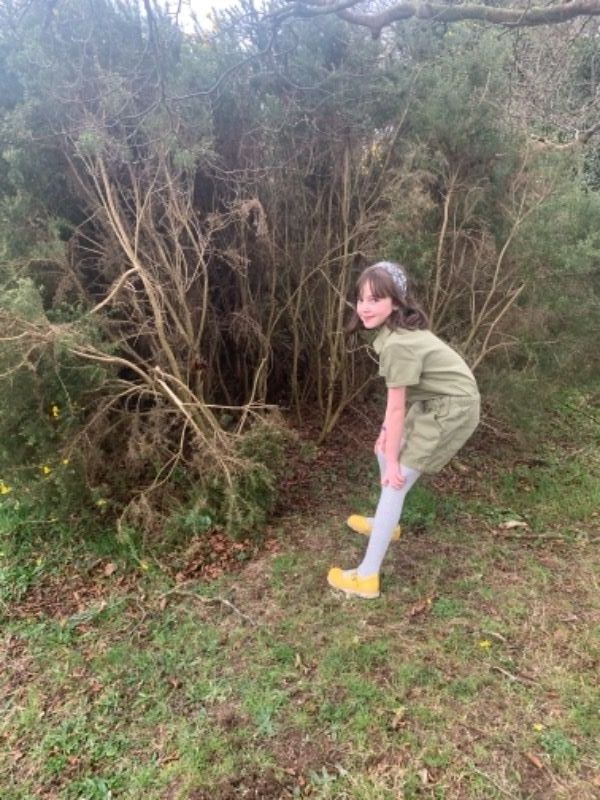 Searching for hedgehogs on Oxford Island
Exploring Oxford Island
How many fungi can I find in this forest?
I can always find a tree to climb ❤️
💙
Helping daddy make a new fence. 👏
Practising our hurling skills at Dromintine Handball Alley. We are part of the Newry Shamrocks Team.
I'm happy ❤️
This is a beautiful view.
My best friend
Soo cool!, 💕
Improving our physical skills while enjoying the forest. 💕
How old is this tree?
Enjoying outdoors and Mathletics.
The cold water is good for our immune system.
We have painted lots of art work displayed in support of the NHS 🌈
Calm and peaceful surroundings.
It's good to feel the heat of the sun. 🥰
Making pastries for breakfast
These made me so happy I wanted to dance and jump. ⭐️
Fresh air and exercise so good for our well-being
I love cycling. It is a great way to meet friends.
And our dog loves exercise too.
Bounce, bounce, bounce.
A fun walk with my baby doll. 💕
We have fun together
Harry Potter Yoga and zombie dancing came out tops👏
Let's get going! ⭐️⭐️
Happiness 🥰
WOW 👏
Dancing is my favourite activity 🩰
Run, run as fast as you can. ⭐️ Well done.
Enjoying my own space.
This is a great place to sit and enjoy a snack
I am always happy when I'm on the trampoline. 😍
Exercise using different muscles. 👏
Scooting in the sun ☀️
Relaxing and reading on my giant bean bag
Taking Noodles the dog for a walk.
Outside fun after school
Cousins having fun
Playing with my cousin.
I love playing golf
I learned how to surf 🏄‍♀️
Wonderful family time at Cranfield
We had lots of forest walks
I kept my gymnastics up through zoom. I love being active 💕
My dog Jake loves his walks and so do I.
Evening walk and a rest before bed.
Trampoline fun
Monday exercise, exploring
Brothers big and little getting their daily exercise
My favourite hobby.
My dog is always with me when I'm outside.
We all love to walk.
We love spending time together. It makes us very happy
Playing games together in the garden.
Family activities. My baby sister is learning to bounce.
Can you see the black lamb?
Dance, dance, dance. I love to dance.
This is FUN
Happiness
Lockdown Puppy. I have been helping to train our new puppy. I love her.
That's our Monday exercise complete. 😃
Exploring
I love being outside especially when on the farm.
Lockdown activities. Lots of happy memories.
Cycling is good exercise.
My exercise for Monday 29 March
A family walk is today's exercise
Look out, here I come.
Magical Monday
Looking After Our Well-being, Tuesday 30 March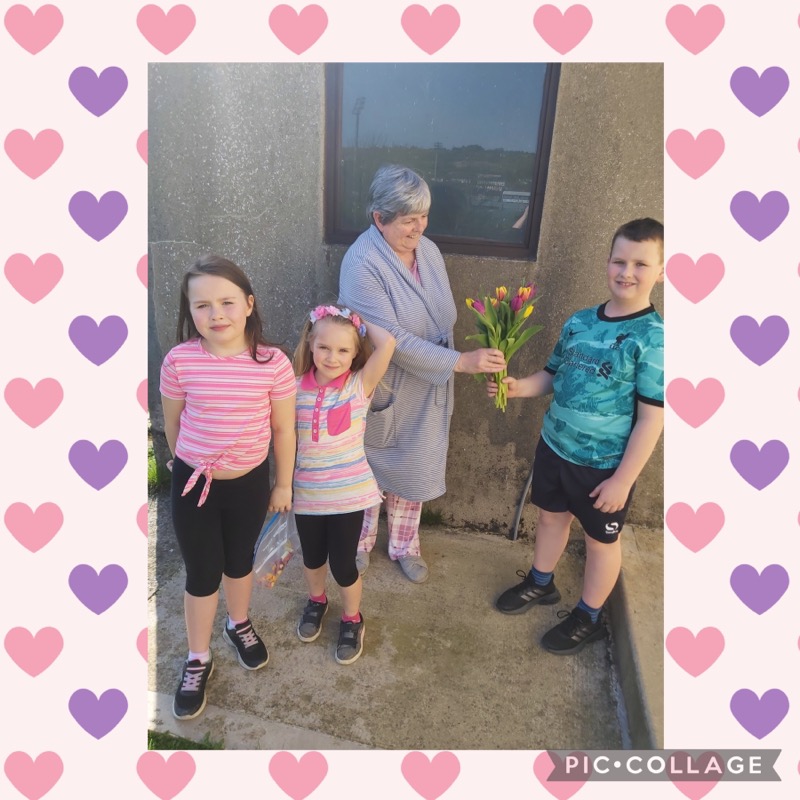 Surprising Nanny! She loved her flowers. 💐
I am drawing my sister. She is very kind to me.
I give by helping my brother
I still have energy to go for a walk after Nursery
"Give". We gave God our prayers for everyone to stay safe. We also lit a candle for the sick.
Helping to clean granny and granda's house 💕
💕
Let's be active and happy.
Afternoon walk
Flowers for Nana
Keeping active is fun
❤️
Giving through turn taking
Giving through sharing
Hanging out the washing to let my mum have a cup of tea.
Best friends giving each other a hug in the park.
Giving by helping and caring for the plants.
Having fun with my cousins and grandparents
Giving a helping hand.
Helping mummy with the shopping. ❤️
I LOVE climbing trees.
I gave my mummy a flower because I love her. Mummy was surprised and took a photo.
It's a warm day so I got Nanny Christine a glass of juice.
Yoga. Giving peace to myself
Quality time with granda. 💙
Helping nanny be doing the dishes
The suns out and I'm having fun.
Giving a helping hand, giving a hug and giving in friendship.
Showing gratitude through offering prayers
"Giving generously" to say thank you for all you do for us.
A cup of tea and biscuits for daddy.
Helping mummy and daddy
Helping mummy plant seeds. I love to hug to give love.
"Giving" by helping mummy
Boys can bake. I helped make this cake for Granda's 88th birthday
Giving love
Giving through sharing a cupcake with her sister
Giving time and love to each other
Helping Granda
Helping to feed the birds
Giving family LOVE
I wanted to feed my little sister so mummy could sit and rest. 💕
We telephoned Nana to see what her day had been like
Surprise Nanny. Flowers for you.
I gave my bunnies food, water and love. now they are two happy bunnies.
Giving love through bedtime hugs.
💕
Family craft time. We used real twigs. Happy Easter.
Giving love.
A card to give love.
🌈
Enjoying nature and the rainbow
Peace and beauty.
Giving help to my brother.
Hope Project gives Kindness rock to the Hospice.
We left off one of our Hope Project Kindness Rocks to the Hospice to thank them for all the incredible care they give
Family walk.
Helping mummy to clear and cleaning the back garden.
Power washing to help dad and mum.
I give food in return I get happiness
I LOVE the forest.
❤️
The money I got from the tooth fairy I gave to Trocaire. I made the decision myself. ⭐️
Learning a new skill
I helped my brother get his boots off as he was finding it difficult after jumping in puddles
Giving flowers and an Easter Egg to our new neighbours
Well-being Activities Wednesday 31 March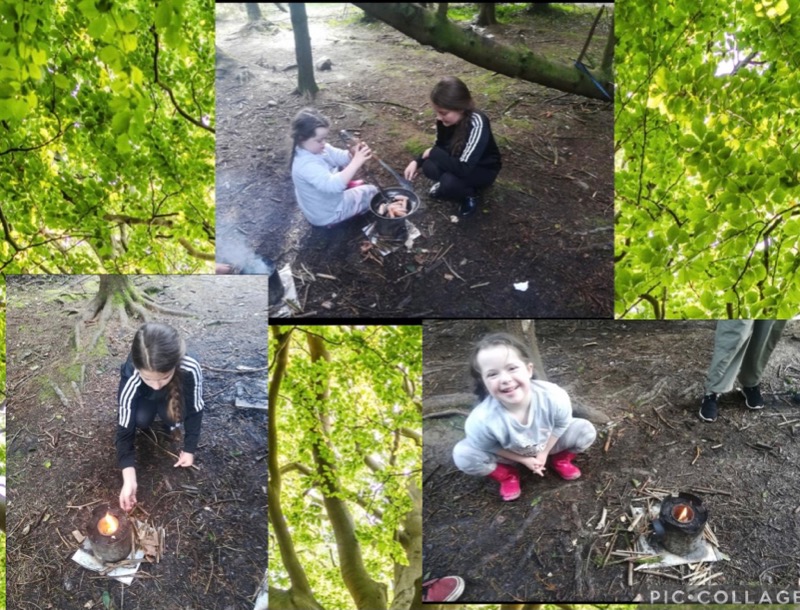 Learning to cook outdoors. 👏
Preparing food for homemade lasagna
These two sisters are helping to make an Easter Cake
Bigwood forest
Thank you for my dinner and for everything you do
Nanna showed us how to make bread ❤️
I learned how to ride my bike without stabilisers. 💕
Kiyara and Braeden learned how to make bread
The trampoline keeps me very active. We got it at the start of the first lockdown
I am learning to play draughts. My big brother is teaching me.
I learned how to plant seeds and look after them.
I learned how to lift up paving bricks. I helped my dad.
Learning how to tie my shoe laces.
Easter buns for us.
Yummy chocolate
Making chocolate cake ❤️
Dad supervised us.
I shared my paints and helped my sister
Developing my fly fishing skills. I was lucky to go to a secure beach
Learning Taekwonda in the back garden
Football practise for the girls
Learning and giving out time to each other
Sharing sweets
Learning a new skill. Golf
Getting our energy levels up
We love to "hit the hills" on a good day
Keep learning 💕 We all enjoy baking.
A new skill acquired during lockdown. Motocross
Keep learning
Baking skills
learning to play the ukulele
my new skill, baking
My new hobby. planting seeds
The plants will be called Rose, Bob, Michael and Gold
Well-Being activities Thursday 1 April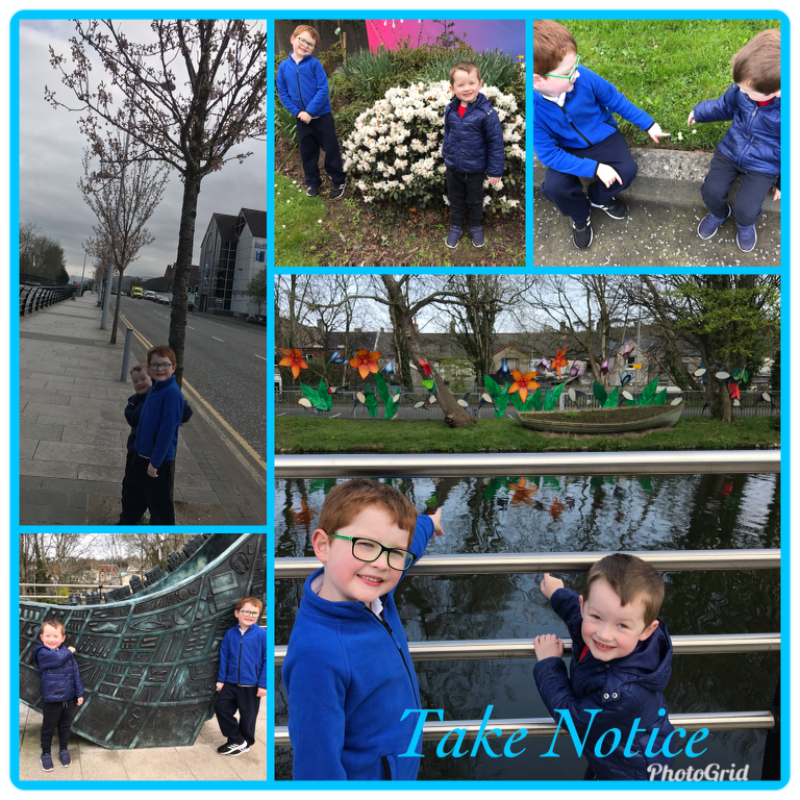 Enjoying the beauty of nature
Taking notice of nature
Taking notice of the views at Martha's Garden
Looking and listening to nature
Our world is amazing
Listening to the sea
Window to the sky
I learned how to push myself on the swing
I learnt how to ride my bike without stabilisers
Wow. Our Earth is very beautiful
Walking in the countryside with the dog
My Song for Well-being Week.
St Clare's Abbey Primary School, Nursery, ECPD, 12 Courtenay Hill, Newry, BT34 2EA | T: 028 3026 2175

WEBSITE BY: SCHOOLWEBDESIGN.NET | Login